Highest rated Dodge dealership in Kamloops
Competitive prices and superior selection
Convenient location and modern facilities
A combined 300 years of experience working FCA products
Power and reliability come together in an impressive tour-de-force when you drive a Ram truck. Highlights include best-in-class features, class-exclusive options, and a lineup that makes life on the road even better. If you want a truck that can make exploring the world and getting work done an easier and more effective process - take a few moments to become familiarized with the
Ram 3500
. Should you prefer something that has more than its fair share of technology features and capabilities - the
Ram 2500
may be the truck you deserve. Of course, there's also the
Ram 1500
for those who prefer the light-duty segment. Whatever you need, Kamloops Dodge has the best selection of Ram trucks for sale in BC.
Whatever you decide to drive you'll be pleased to know that you have the team at Kamloops Dodge ready to support you. We have all-star specialists across our departments, with state-of-the-art facilities that ensure you have everything you need today, tomorrow, and for years into the future. We want you to have an experience that you want to tell others about - and with Kamloops Dodge's team that's exactly what you'll find. Join us today and let's help you find the ideal pickup for you at Kamloops Dodge - your home dealership.
All Models of Dodge Ram Trucks for Sale in BC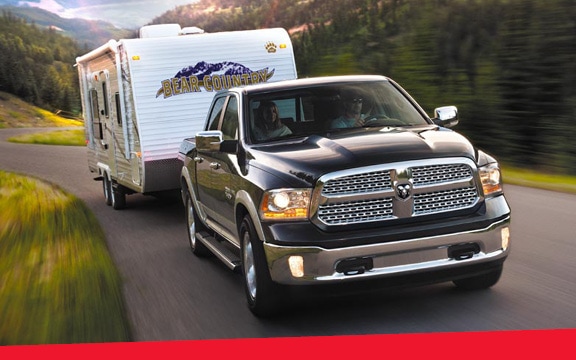 We're sure you've had the opportunity to check out some of the Ram truck options - or perhaps you've already owned one - whatever the case may be, there's a lot to be said about the Ram brand. We'll spend a moment going over some of the interesting features that have earned these vehicles their stellar reputation. With the Ram 1500, for starters, you'll note that it can be chosen with the incredible 3.0-Litre EcoDiesel V6 engine which earns it a best-in-class fuel efficiency as low as 8.0-L/100 km (35 MPG) highway. Pretty impressive, right? Now, what about having a towing capacity that will enable you to get from here to there to wherever with ease - at up to 4,826 kg (10,640 lb) you're definitely in good hands with this half-ton marvel.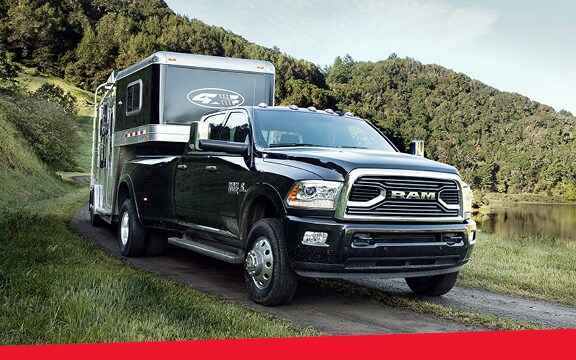 With the
Ram 2500
you'll step up those numbers a touch - as well as reward yourself with options that include the insanely effective 6.7-Litre Cummins Turbo Diesel I-6 engine. The
Ram 2500
has everything you can or should hope for on your next truck, including a best-in-class ¾-ton gas engine towing capacity of up to 7,403 kg (16,320 lb) and torque up to 800 lb-ft. With the
Ram 3500
you'll have engine options to impress with a payload up to 3,352 kg (7,390 lb) to make your life easier with select models. Find the right Ram for you when you choose Kamloops Dodge. We're here to make your life better.